Check out: Farah Khan takes a trip down memory lane with her first award win
Check out: Farah Khan takes a trip down memory lane with her first award win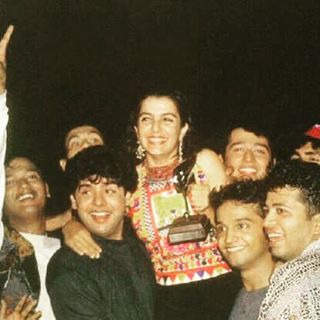 Today, Farah Khan isn't just an award winning choreographer but also an established filmmaker and actress. But not too long ago Farah was an up and coming choreographer making inroads into Bollywood.
Taking a trip down memory lane recently Farah Khan took to the image sharing site Instagram sharing a picture of her first ever award win. Posting the image Farah added, "1st n ONLY award i win for PehlaNasha! 25 yrs ago n 25 kilos lighter yes that's sajid lifting me!"
While this image certain brings back memories, an interesting fact about Farah Khan's Bollywood journey is that Khan got her big Bollywood break with 'PehlaNasha'after choreographer Saroj Khan, left the for Kodaikanal two days into shooting of the song leaving the same midway without any intimation.
Source: World Bolllywood